Free Training: How to Dramatically Improve Your CV and Win More Interviews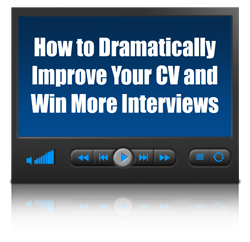 "My new CV has been extremely well received by both employers and agencies.
I obtained 5 interviews in a very short period of time.
I now have a new job, starting next Monday!"
-- Clare Dickinson
Please sign-up below for our free online training and learn the trade secrets of professional CV Service Bradley CVs, who have 24 years' experience. We expect this training to be ready within the next month.
See example CVs and discover the fatal mistakes that other people have made, mistakes you may have made too that will cost you job interviews.
Learn what makes an excellent CV layout, and see the contents and expert wording on a 'good' CV.
Discover what you must include in your CV if you want to win interviews and beat the other 100+ people who will apply for the same jobs as you.
No special equipment is required, you can watch this on your PC, Mac, laptop, tablet or phone.
Enter Name & Email, Then Click The Button Below